The Ginger Group's delicious Boxgum Grazing slow-cooked beef brisket pie with mushroom, button onions and Balzanelli bacon.
introduction
About this Recipe
The Ginger Group has a very long association with Boxgum Grazing since opening our first restaurant in Canberra called Juniperberry in 1995.
In those early days and even more importantly now as we face serious changes in our climate, we have supported regenerative farming practices by using meats, eggs, vegetables and grains from farms with holistic management strategies.
Boxgum Grazing is the multi-generational farm of the Johnson family, named for the eucalypt woodlands of their corner of the Hilltops region of southern New South Wales. The farming like the cooking is done with utmost respect for the animals and the land.
This recipe takes around 2-3 hours to cook the brisket, another hour to cool the mixture and maybe 1 hour to assemble and bake. Perfect for a slow, wet weekend in Canberra with a glass of local wine.
The recipe makes 10 pies, about 230-250g each or can be adapted for one large pie or pot pies with puff lids. If you are making pot pies or individual large pie, you will only need one packet of Carême puff pastry.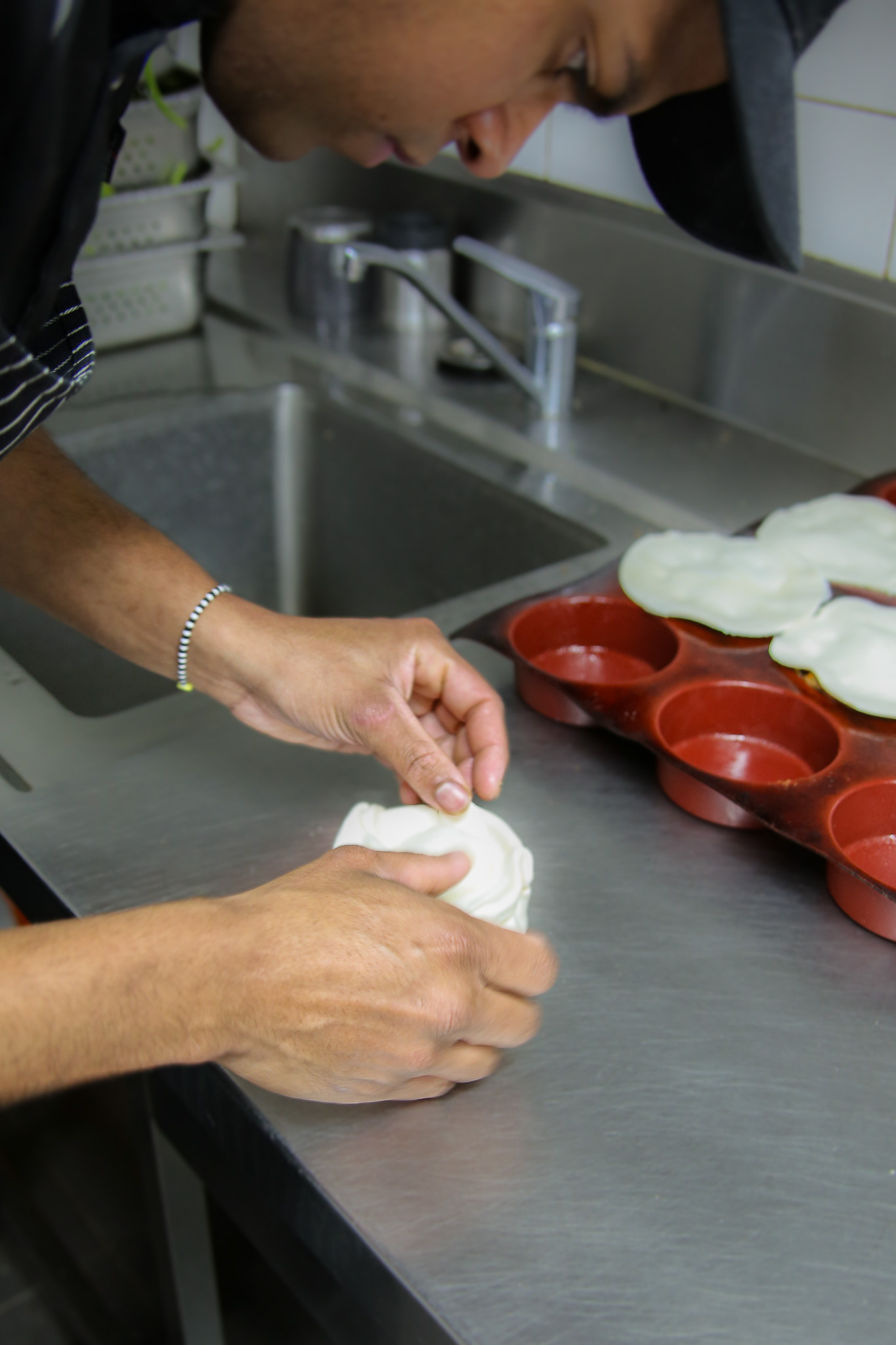 Want to skip the cooking? The Beef Brisket Pie is regularly available at the Café at the Arboretum, open daily from 9am  4pm.
100ml Homeleigh Grove olive oil
1 kg piece Boxgum Grazing beef brisket
Pinch of salt and pepper
3 Southern Harvest carrots, thinly sliced
2 southern Harvest brown onions, peeled and coarsely chopped
2 celery stalks, thinly sliced
750ml (3 cups) beef stock
100ml red wine vinegar
8 thyme sprigs
2 fresh bay leaves
3 garlic cloves, crushed
300g button onions, peeled
500 ml dry red wine
500g button mushrooms, cut into quarters
250g bacon cut into strips
250g butter
5 garlic cloves, crushed
150g (1 cup) plain flour
2 tbsp Dijon mustard
2 packets Carême puff pastry
1 egg yolk
2 tbsp pouring cream
1 tbsp poppy seeds (optional)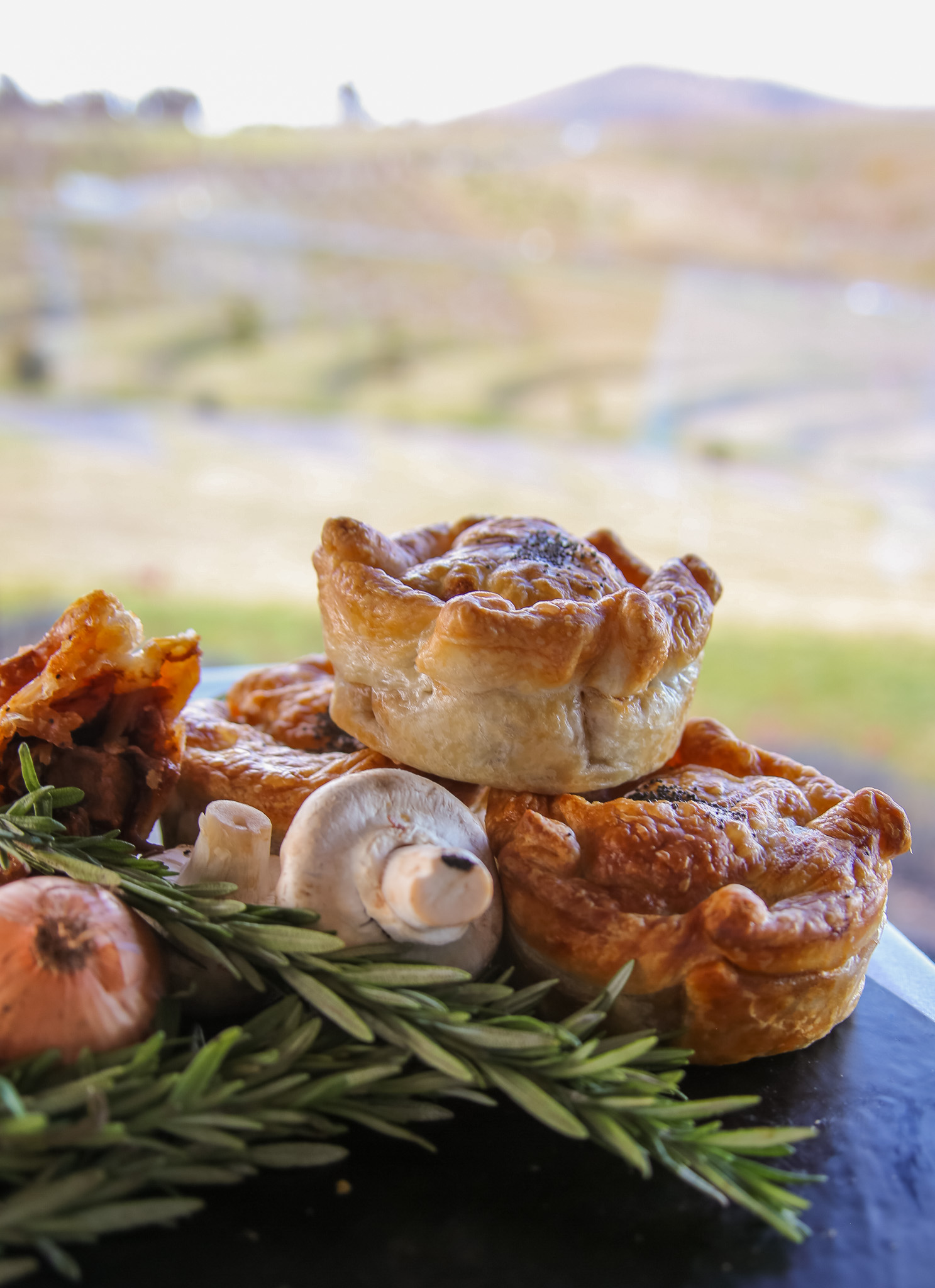 To make the brisket
Preheat oven to 150°C, low and slow is the aim.
Trim fat off brisket and season with salt and pepper.
Heat olive oil over medium-high heat in a large casserole pan sear brisket and brown in the pan, turning occasionally, until golden (4-6 minutes). Remove and set aside.
Reduce heat to medium-low, add carrots, brown onions and celery. Stir occasionally until caramelised (15-20 minutes).
Add stock, vinegar, herbs and garlic and return brisket to pan. Cover with baking paper, tucking edges into the liquid to secure, and cook in the oven until beef is tender approximately 2-2½ hours.
Remove brisket from the liquid. When cool enough to handle, cut the brisket into 2cm-3cm pieces and set aside. Strain liquid (discard vegetables and herbs) and set aside.
To make the pie filling
While the brisket is cooking, cook the button onions in dry red wine for 15 minutes, allow to cool and slice into quarters.
Roast the button mushrooms in the oven for approximately 10 minutes, until soft.
Bake the bacon strips in the oven for approximately 5 minutes until crispy.
Once the brisket has been removed from the oven increase oven temperature to 180°C
In the casserole pan, add half the butter and melt over medium heat. Add mushrooms, season to taste and sauté until golden (5-7 minutes). Add garlic and remaining butter and, when melted, add flour and stir until nut-brown (5-7 minutes). Add mustard, then slowly add reserved cooking liquid, stirring until smooth. Remove from heat and add brisket, onions and bacon. Let cool.
Assembling the pies
Defrost the pastry and cut bases into 15cm circles and lids into 12cm circles.
Place bases into 10cm pie mould and press in.
Divide mixture into the pie dishes and place lids on top, pinch edges together.
Whisk egg yolk and cream together and brush over top of the pies.
Sprinkle a pinch of poppy seeds ontop of each pie to garnish (optional)
Pierce the lids to allow steam to escape.
Bake pies until deep golden (25-30 minutes). Serve hot.